Voucher Skout is a lifestyle brand built on an enjoy more ethos. Available, free to download, on iOS & Android mobile app offering 50% off deals at the best hospitality, wellness, leisure and entertainment venues across the UAE.
All Voucherskout Offers get you 50% off and is a pay as you use service. So you only pay for what you actually want, when you want it!
All offers fall into six broad categories (Food & Drink, Brunch, Beauty & Wellness, Sports & Leisure, Family & Local Services and Learning) that capture the best of the UAE. Each category has a range of exclusive, handpicked places, with some mind-blowing offers. Even better, you only pay when you redeem a voucher, so say goodbye to expensive annual subscriptions.
Couple of the many brands participating :
Foodcrowd (fresh food and grocery delivery company), Dominos, Papa Johns with its signature, vine-ripened tomato sauce, fresh, never frozen, dough, Italian-style cheese, fresh vegetables, and high-quality meat., Reel Cinemas with load of movies and many others.
PROMO CODE TERMS AND CONDITION –
You will receive your promo code against ERW1000, simply enter it in the Voucherskout app to get the bonus credits after you have made a purchase of a pack of 10 credits for AED 65.00Get 50% bonus credits (5 bonus credits) worth AED 32.00, for every 10 credits pack purchase for AED 65.00
To summarize, just collect as little as 10 bottles to unlock a benefit of AED32!
Ready for the hunt, rush to ZeLoop app?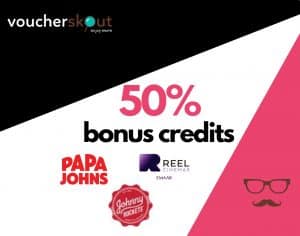 Check out more offers on ZeLoop Vouchers page