How a sustainable lifestyle can help expand your wealth 
Feb 11, 2022
Residents in the UAE are being offered a range of incentives for recycling, using less plastic and other eco-friendly activities.
Rishabh Mittal began recycling plastic bottles from home for the good of the planet.
But when he discovered ZeLoop – a UAE-based company and app that rewards people for depositing bottles at registered recycle points – the Dubai student extended his efforts to include residents in his building.
That resulted in the 13-year-old amassing 500 bottles in one month last year, earning him "Eco-Rewards" and providing his family with grocery discounts worth Dh1,000.
"I wanted to do a recycling project as a service action for my school," says Rishabh.
"While looking for opportunities on Google, I came across ZeLoop where they encourage you to recycle plastic bottles and reward you … this seemed interesting and inspiring.
"I did recycle, but not on a regular basis — ZeLoop encouraged me to make this part of my daily routine."
Rishabh joined the app in August and began collecting bottles at school and picnics, but he then encouraged neighbors in his Business Bay building to give him their empties, which he deposits in basement recycling bins.
The Indian teenager, whose father is a senior finance professional, recognised the fiscal benefit of maintaining his efforts, for which he has since been designated a ZeLoop "eco ambassador".
Once registered, users take plastic bottles to recycling points mapped by the ZeLoop community – the platform geo-locates the user who must upload a snapshot of their bottles.
More than 5,000 people have joined in the UAE, of which about 2 per cent are participating weekly, while 11,000 registered users in 150 countries feed 5,000-plus collection points, Eric Schaffner, ZeLoop's founder and chief executive, says.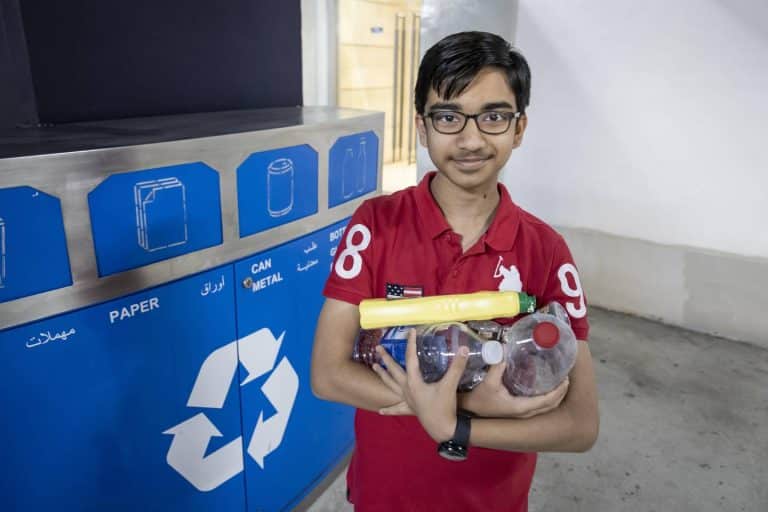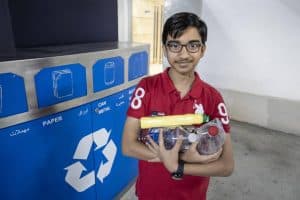 For each water, milk, or shampoo bottle deposited –
regardless of size, plastic type, clean or crushed –
and each new collection point tagged, the user's 
blockchain
virtual wallet is credited with Eco-Rewards, a digital currency token created by Mr. Schaffner and his team.
ZeLoop was deployed worldwide in July 2020 with Eco-Rewards becoming redeemable five months later. Last October, it also became possible to convert them to US dollars or Bitcoin via the Binance chain.
Accumulated rewards can secure discounts with 20 partners on the ZeLoop marketplace – such as cleaning solutions retailer Al Bayader, sustainable products retailer Blue Terra and beauty brand Secret Skin – or contribute to tree planting.
Drawing on 25 years' experience in the beverage and plastic packaging industry, Mr Schaffner is convinced the circular economy can minimise waste and regenerate natural systems."One million plastic bottles are produced every minute in the world … every year 78 million tonnes of plastic ends up in nature or landfill," he says, highlighting that bottles have actual value, so consigning them to garbage is like throwing money down the drain.
"For us, any bottle that doesn't end up in nature deserves to be rewarded equally," he says.
"Most of our partners value a bottle at Dh1, so 'ZeLoopians' have in their wallets half a million dirhams worth of discount vouchers that can save them 10 percent to 50 percent off goods available for redeeming."
ZeLoop's gamification model also encourages competition and hosts Eco-Missions, a regular challenge with prizes for best collectors over a designated period.
When the Nestlé Pure Life Eco-Mission initiative ran in the UAE on World Recycling Day, in partnership with ZeLoop, participants collected 50,000-plus recyclable plastic bottles during six weeks. So far, UAE users have collected almost 500,000 bottles.
So what is the incentive for companies to provide discounts on their products?"Partner brands are motivated to be part of the programme because they want a tangible and measurable action on the ground that reflects their CSR values and strategy," says Mr Schaffner.
"We are combining blockchain technology and image recognition to offer brands the benefit of a unique, trustable ecosystem." says Mr Schaffner.
Please read the full article on National News link :
https://www.thenationalnews.com/weekend/2022/02/11/how-a-sustainable-lifestyle-can-help-grow-your-wealth/