This April, the ZeLoop team has been working like a busy bee, to get across some major good news for you! Seems like our ZeLoopians are not far behind with the high engagement we've received this month. Find out everything we've been up to here!
Firstly, we are ecstatic as we continue to partner with Nestlé for the Nestle® Pure Life® Eco Mission. In the past month, we've managed more than 1000 signups with over 52,000 bottles collected. You too, can become a planet hero and win some very valuable prizes by completing some fun steps. The first-place winner gets to win an e-coupon for 20 x 5-gallon bottles and a colored dispenser. The second-place winner will win an e-coupon for 20 x 5-gallon bottles and 20 free water packs and more prizes to win. Check out our Facebook page for the easy steps on how to earn these exciting prizes with Nestlé and ZeLoop.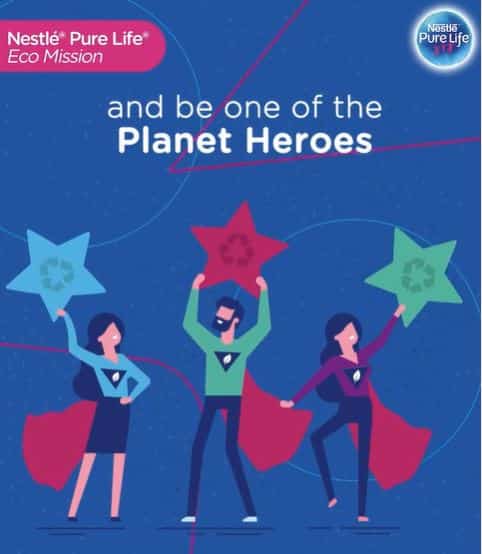 We also have an exciting new partner 'rite.' Rite gives you the rite vitamins that your body requires and is completely vegan and cruelty-free, uses natural colors and sugars, uses recyclable packaging (interesting!), and is made in France. Recycle with ZeLoop today to benefit from vouchers worth 50AED to your favorite vegan gummy bear vitamins!
Guess who made it as the first initiative from MENA out of the 1000 solutions that are listed with the Solar Impulse Foundation? That's right! Us ZeLoopians. This portfolio categorizes initiatives that can address environmental challenges while enabling economic growth.
This April, we also interviewed Hong Trinh in partnership with PANELTECH U.S. PANELTECH is a company that repurposes waste and uses a technology which produces 40-70% less CO₂ than the conventional process. Head over to our blog to read a very insightful interview that we've conducted.
Last, but not least, we proudly announce our latest initiative – The ZeLoop Impact. The Zeloop Impact is a very fun and easy way to shop in a very responsible manner for the environment. Simply download the extension on your search browser and you will be provided with discounts and vouchers every time you shop online with any of the 25,000+ ZeLoop Impact e-commerce partnerships including fan favourites like Canon, Walmart, Target or Samsung.
Shop online like normal and our partner stores will support the plastic clean-up organization of your choice at no extra cost. Also, when you are shopping, ZeLoop Impact with test all available discount codes and apply the one that saves you the most money.
There's all this and so much more at the ZeLoop family. Become a part of this rewarding experience by downloading the ZeLoop App.
Read all about exciting new ventures, the world of pollution, recycling, and cryptocurrency on our blog. We have a little something for everyone to read!
Blog link: Blog – ZeLoop
One more time for ZeLoop Impact : https://rewards.zeloop.net/