Or as we, the ZeLoopians, like to say; closing the loop with ZeLoop.
79% of all our plastic waste produced ends up in oceans and landfills and does not get recycled. This means that for more than half of our lifetime, the plastic bottles we consume, end up being the sole cause of plastic pollution in the oceans.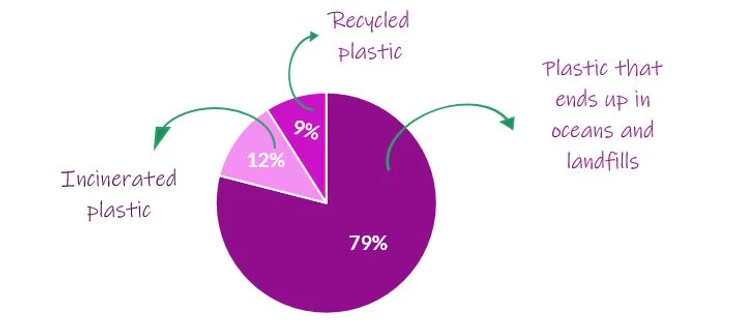 Source: Here's how much plastic trash is littering the earth, Laura Parker, 2018.
For more information: https://www.nationalgeographic.com/news/2017/07/plastic-produced-recycling-waste-ocean-trash-debris-environment/#:~:text=Of%20the%208.3%20billion%20metric,the%20natural%20environment%20as%20litter
Developing countries around the world have turned their oceans into dumping grounds for the incriminating amount of plastic bottles they do not dispose of rightly. Now, more than ever, our planet requires immense, impactful, action that can help save the marine life that surrounds us and consequently rescue our ecosystem.
Imagine it this way. Human beings belong to the top of the food chain and are likely to stay there for a very long time (at least we hope so). Towards the bottom of the food chain, belongs the aquatic life, including marine plants and animals. Every year, we lose around 100,000 marine mammals and 1 million sea birds due to the growing plastic pollution. Consequently, this affects the entire food chain, leading to the top, where, you guessed it right! Human species reside. Not to mention the grave destruction we cause our environment and the innocent life that surrounds it, solely because we don't put plastic waste into bins. That's a lot of damage for forgetting such a simple act.
While it has become increasingly important to realize the impacts the human race has on the world around us, it has become more important to act right and eradicate such destructive practices. All it takes from our side is a few simple steps (literally and figuratively) that involve dumping our plastic bottles into their respective waste collection point.
In fact, the ZeLoop app, which has recently launched, helps you gain eco-rewards for doing just that. This means, not only do you get to save the environment and feel good about it, but you also get rewarded with more than just personal satisfaction.
When it comes to doing what's right for the environment, it is both incredibly simple and the hardest thing we've ever had to do as mankind.
We at ZeLoop know how important it is to make the right choice. Do you?