About THE NEOD
❛ Swimwear for those who like to dress sustainably without compromising on style.❜
THE NEOD Sustainable Swimwear is exclusively made of regenerated fishing nets, discarded plastic, and other ocean waste affecting marine life. Dyes are GOTS® certified & OEKO-TEX® approved, which guarantee that fabrics are free from harmful substances, made in safe & socially-responsible workplaces, and are handmade in Bali under sustainable working conditions.
These fabrics can be remolded, recycled, and recreated infinitely.

DOWNLOAD ZeLoop app and get your vouchers for a  FREE WORLDWIDE SHIPPING or AED75 voucher.
So get recycling and join the revolution!
Worldwide Express Delivery!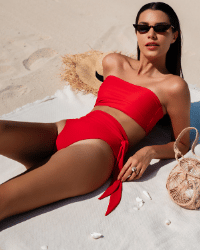 Check out more vouchers you can redeem when recycling with ZeLoop.